I received my new HTC Thunderbolt in the mail last Thursday after I was having issues with the 4G Radio signal. Shortly after I got off the phone with Verizon, the signal came back to 4G instead of 1X. I decided to keep the replacement phone order in progress since I thought it'd be nice to have a "new" phone with no scratches. I won't drop this new phone! It's my goal to keep it in perfect condition.
Anyways, I got a bug in me this weekend to try and root my HTC Thunerbolt following the steps I found on Thunderboltforums.com (I can't find the exact link, but some instructions I'm finding online are a lot more complicated then what I actually did). I really just had to run this small .exe/.bat file and it was pretty straight forward from there. I didn't have to copy and paste any commands in the command prompt, etc.
My phone would be wiped clean (which I was fine with since I just got the new one in the mail) but the SD card was fine and all my files remained in tact. My Thunderbolt was wiped clean and then I had to go through the whole process again and finally after that, I was rooted.
I went a step further and downloaded ROM Manager from the Android Market and I was able to download BAMF 2.1 (which is a Gingerbread ROM). I've never installed a custom ROM before. I did read online that my radio signal would be lost but WiFi would still turn on and work. To get the cell radio to work again, it was only about a 5 minute fix. I had to download a file that was about 26MB in file size and place it on my SD card. Once that was done, I had to restart my HTC Thunderbolt and press the power button while I held down the volume down button to boot in recovery mode. The 26MB file I placed on the SD card ran an install/update and once I turned the phone back on, I had 4G service again and I was able to make calls
After I installed BAMF 2.1 (Gingerbread ROM) I felt like my HTC Thunderbolt was a brand new phone! I don't know why I haven't tried to install custom ROMs before! They get rid of all the bloatware that come on the phones such as Blockbuster, Golf, Verizon crapware, etc. I feel like I have a true "Android" phone now. The Thunderbolt is snappy and so responsive! I was even able to overclock my phone to 1.2Ghz. I tried 1.4Ghz, but the phone would sometimes freeze up and crash. 1.2Ghz has been very stable for me, so far.
My two favorite things with Das BAMF 2.1 is the new lock screen and NetFlix. On the lock screen (see below):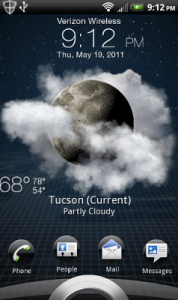 I'm  able to see the weather along with easy access to 4 applications/functions of my choice. How this works (look at the picture for reference) is if I want to easily get to my text messages I go to the "messages" icon and drag it into the circle on the very bottom of the screen. The phone will then unlock and go directly to my text messages. If I simply want to just unlock the phone to my main screen, I just take the circle and drag it up into the middle of the screen.
This is so handy because when I'm texting back and forth with friends, I don't have to unlock the phone, find my text message app / or drag the notification bar down and then tap the message to finally open the message. Having this easy access option on the lock screen saves quite a bit of time over the length of a conversation. Another awesome feature is if you get a text message, it will give you a preview on the lock screen. There's no easy way to get the text message off the screen though (at least not that I can find) so if the message just says "k" it seems pointless to have to open the text messages and read the message just to get it off the lock screen. If someone knows how to do this, or of the Das BAMF team is going to fix this, that'd be great!
The next thing I'm really excited about, as I mentioned earlier, is NetFlix support! I no longer have Comcast cable anymore. I strictly use NetFlix and Hulu now for my cable. I've cut the cord! So there are a lot of TV shows I've been watching between the two and I can finally watch NetFlix on my way into work since I take public transportation. I think, as of right now, only the LG Revolution has native NetFlix support. I haven't experienced any issues yet, so not quite sure why NetFlix is waiting to release the app on mass scale, but I'm just glad I finally have it!
I'm glad to finally say I'm taking full advantage of my phone. If you have any questions or are interested in rooting your HTC Thunderbolt, shoot me an e-mail or comment to my post! I'd be more than happy to help any way possible. If you do have an Android phone, I encourage you to try installing custom ROMs if you feel comfortable enough!