Do you have Verizon's 4G LTE in your area, or are you living in one of the lucky cities that's about to get 4G by the end of this year? Then you're going to want to seriously consider getting your hands on the HTC Thunderbolt.
I've been using this phone since day 1. The speed is amazing! My average speed at home is about 15mbps down. When I'm at work, I can get anywhere frmo 6mbps to 14mbps down. That's still really fast!
I came to the HTC Thunderbolt from the Droid X. This is my first HTC phone. I have to say, I prefer HTC to Motorola any day. You can just tell tht HTC takes their time in building their phones. The HTC Sense software is way nicer than Motorola Blur. If you're not sure what I'm talking about, HTC Sense is the software that the manufacture loads on top of the Android operating system. While Motorola loads their own software called Motorola Blur. Even my phone's settings are much nicer on the HTC Thunderbolt vs. the Droid X. Each setting has an icon vs. just black and white text like the Droid X. HTC has done a a good job of making the phone user friendly.
The only downfall to this phone? The battery. Yes, this is the first 4G LTE phone on Verizon's network. My recommendation? Get the extended battery. This is going to way your phone down and make it heavier. But for me, this has not been an issue. I usually carry my phone around in my hand or put it in my back pocket. If the phone is not in my hand or in my pocket, it's sitting on the desk. Problem solved. I can now easily get 2 days out of my HTC Thunderbolt phone when I turn my phone off at night time. Here's what the phone looks like with the extended battery in the phone: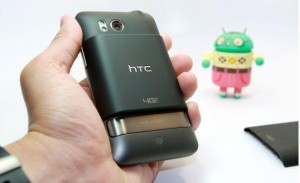 I picked the extended battery up at Verizon for $40. I actually ended up getting 2 of these because since the batteries are so big, they do take a while to charge. When a put one of these extended batteries in a battery wall charger, it takes about 9-10 hours to fully charge. If I'm charing the battery inside the phone via the wall charger, it takes about half the time. Not sure why that is. You can pick up a battery wall charger on eBay for less than $5.
If you're looking for speed and you need to have the latest and greatest cell phone gadgets, then I would highly recommend the HTC Thunderbolt. However, if you don't have 4G in your area yet, then hold off. There's no point in upgrading if you're city isn't getting 4G any time soon.