How would you like to hide all your wires and have a crisp and clean living room? Now you can! I recently purchased this floating shelf from FlatScreenShelving.com This is truly one of a kind shelf. I searched the Internet for a couple of days and finally came across this product.
I have seen products wher it's an actual shelf that you have to mount on the wall and into studs. However, I didn't want to do this because my studs weren't even lined up under the TV. The shelf would have looked "off". I wanted a simpler product that would already use my existing wall mount. That's where FlatScreenShelving.com came in handy! As you can see in their videos, their product is just 4 simple brackets that hangs from your wall mount already. Then a piece of glass runs across the brackets and allows you to place your electronics on the shelf.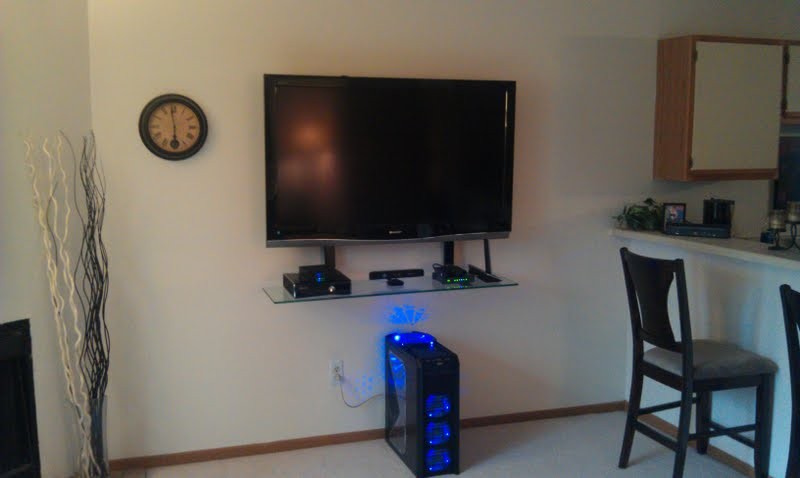 I will say this, the shelf only holds 30 lbs. and it does not have a whole lot of room on the shelf. I actually decided to take my surround system down. I had a huge receiver that took up most of the space on the shelf. Plus I didn't want the shelf to brake since those receivers way a ton. Another main concern was I didn't have enough room on the shelf to hold all my speakers. Plus, I live in a rental townhouse, so I can never turn my surround sound up too loud. With that being said, I currently have my XBOX 360, Kinect, phone base, Roku box, tiny cable box, wireless-N router, and cable modem all sitting on the shelf. You can only fit so many cables behind the covers they give you. One of my covers ended up splitting and I had to order another one.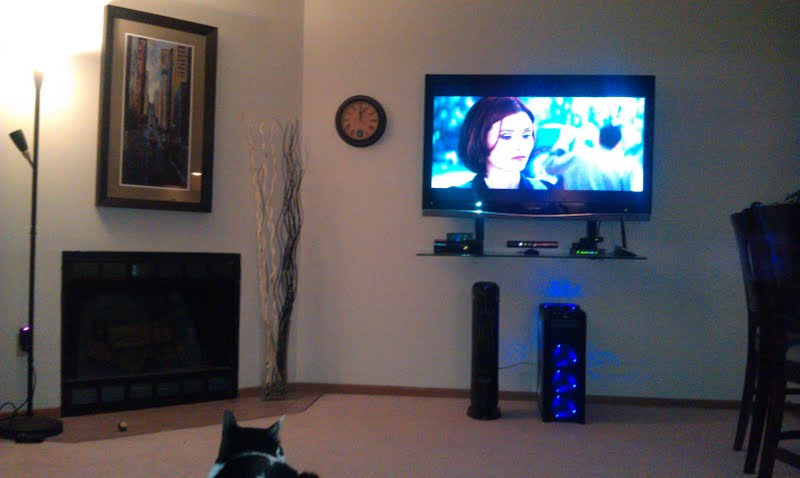 Maybe you're wondering how I hid all the cables, since most electrical outlets are near the floor? Simple! I posted an ad on Craigslist and hired an electrician to come out and move the outlet behind the TV. Labor and parts only cost me $60! I then put the TV on the wall and all the cables are literally sitting behind the TV. There is enough room between the TV and the wall to throw all your cables back there. I know the cables are sitting back there in a tangled mess, but when a guest comes into my home, they have no clue J. To them it looks crisp and clean!
I would highly recommend this product, only if you don't have too many electronics to put on the shelf. I would love to hear from you and see what you think of my project. I've never done anything like this before!
Oh, if you're wondering what those two towers are sitting underneath the TV, that is my air purifier and server. My server holds all my movies, pictures, music, etc. I can then easily stream my movies through server to my XBOX 360. That sever has 6,500GB of storage in it!