UPDATE: Great news for all you Straight Talk users! Since I've posted a few articles here on WireValley in regards to my experience with Straight Talk, APN settings, tutorials, screenshots, helping others, etc. I thought it would be a great idea to start a support website for all of us Straight Talk users!
———————————-
█ Want to see if I can help you live via instant messenger? Feel free to contact me on any of the following:
█ AIM: RichardHTTP
█ GTalk: RichardHTTP
█ ICQ: 329577628
█ MSN/Live: RichardHTTP (at) outlook.com
█ Skype: RichardHTTP
█ Trillian: RichardHTTP
█ Yahoo: RichardHTTP
———————————-
I've been using Straight Talk now for over a week and everything is still going great! I had one hiccup with picture messaging. I had entered in another APN setting for MMS picture messaging and everything was working good for a few days. Then, I was having issues with my data connection so I changed my other APN setting with one I found online. However, that ended up screwing up my MMS settings again! Sounds confusing, but really it was an easy fix and I'm here to give you the settings you need to talk, text, data, and MMS.
Enter in this APN for your talk, text, and data:
_________________________________
Name: ST (or whatever you want)
APN: att.mvno
Proxy: proxy.mvno.tracfone.com
Port: 80
Username: Not set
Password: Not set
Server: Not set
MMSC: http: mmsc. cingular. com (**no spaces and no"//"**)
MMSC proxy: 66.209.11.33
MMS port: 80
MCC: 310
MNC: 410
Authentication Type: Not set
APN type: default,supl,mms (notice I took off the mms! This is because we'll enter a 2nd APN for mms.)
APN protocol: IPv4
Bearer: Not specified
_________________________________
Now, we'll enter in a another APN  for your picture messaging. So go to your APN settings on your phone and create a new APN. Use these settings:
___________________________________________
Name: MMS
APN: att.mvno
skip down to MMSC: http://mmsc.cingular.com
MMS proxy: proxy.mvno.tracfone.com
MMS port: 80
MCC: 310
MNC: 410
Authentication Type: Not set
skip to APN type and enter: mms
THEN SAVE
___________________________________________
In case you like screenshots, here are the first two screenshots and how your settings should look for the your 1st APN titled ST (or whatever you called it.)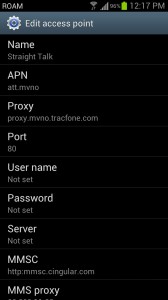 continued on to 2nd screenshot…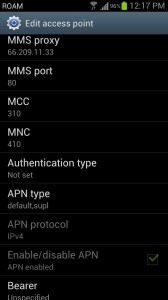 Now onto your MMS APN setting. These are the screenshots for how your 2nd APN called MMS should look: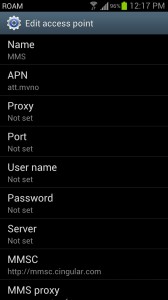 Continued on to 2nd screenshot….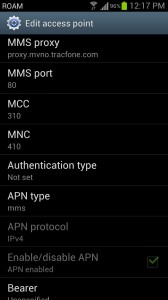 There you go! Your phone should have perfect working talk, text, data, and picture messaging! I haven't had any issues since I've using these two APN settings together.