I wrote a review back in January regarding my Samsung Galaxy Nexus on Verizon. I loved the phone and I loved Ice Cream Sandwich. I don't know what happened, but shortly after my review I started having major issues. My data connection kept going out even though I had full service. I'd have to wait for the connection to restore or turn airplane mode on and then off. I called Verizon and swapped the phone out for a replacement only to have the same issue. We had another Galaxy Nexus on the account with the same issues. Another major issue I was having ever since the beginning was having MAJOR difficulties transferring pictures and songs onto my phone. Often the files would just hang there and wouldn't transfer.
I saw the Samsung Galaxy Note come out on AT&T and I REALLY wanted this phone. It's a massive 5.3″ display which isn't for everyone, but if you're a multimedia whore like me, then you should defiantly be looking at this phone! There were a couple of draw backs for me:
AT&T network not as superior as Verizon's (in my opinion.) No AT&T LTE in the Minneapolis/St. Paul area. However, AT&T LTE is supposed to be coming by the end of June in Minneapolis. So I'm temporarily having to downgrade from 4G to 3G.
Pay cancellation fee to Verizon. I had two lines so I'm easily paying a good $550 in fees.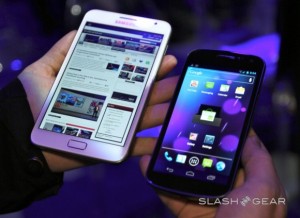 Oh my gosh this phone is beautiful! I read 10+ reviews online before buying the Galaxy Note. I read some of the tech blogs that only gave this phone a 2 star, blah blah blah. I must say, don't listen to them! Yes, in technical terms the Galaxy Note's screen isn't as vivid as the Nexus. Do I notice the difference to the naked eye? No. Using a stylis pen on the Note is a bit stupid. I wish they would have just left it out. I took my pen out once and will probably never use it again.
On top of the phone being great for media, the phone calls are clear! I haven't had a problem with AT&T (yet) in the twin cities. I used to have MAJOR problems when we had the iPhone 4 but after we got rid of those phones and switched to Verizon, AT&T spent major money upgrading the twin cities network. Also, an AT&T store rep told me the iPhones are the worst phones on their network for coverage. The Galaxy Note is performing very well. No dropped calls and no dropped service yet.
I am not having ANY issues transferring music and photos to my new Galaxy Note. I bought a 32GB Micro SD card, class 10 and everything is working smoothly!
1 issue with the Galaxy Note:
I'm showing a little bit of "lagginess" when flipping between home screens. I rooted by phone and installed a custom ROM along with a overclocked Kernel. That seemed to help and improve battery life. However, with Ice Cream Sandwich on the horizon, this issue will be fixed.
Again, this phone will not be for everyone. A lot of people notice the size right away when I pull out my phone. However, I browse the web, read the news, and Facebook every single day. The big screen serves my purposes well! After using my Galaxy Note for about 5 days, I help the Nexus in my hand and it literally felt like an iPhone!