After I sold my iPad I knew I was going to be getting the Kindle 3. That was a no-brainer. However, I wasn't sure which version I wanted to get. Do I pay only $114 to have a couple ads on the device, or pay $139 for an ad-free Kindle? After a friend bought the Kindle Ad version along with a case, her total ended up being only $129. I knew right away that is exactly what I was going to do as well. I was able to get a Kindle plus a case for less than what I would have paid for an ad-free Kindle. You are using the Kindle to read books, right? And there's no ads during your reading, so why not save money?
In all honestly, when I first turned on the Kindle and started playing with it, while I loaded my eBooks onto the Kindle using the Calibre software, I didn't even notice the ad on the bottom of the screen! I kind of forgot about it and it literally took me up to 5 minutes to notice it there. Look below: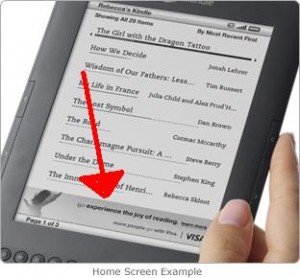 Yes, it's easy to notice in the picture, especially when I'm point the ad out. However, when you have the actual Kindle in your hand, the whole screen is black and white and everything on the screen just "flows" together. With that being said, my eyes just kind of "skip" right over the ad.
The only other place an ad is shown is on the screensaver when you have your Kindle turned off. Personally, this does not bother me one bit! As soon as I'm done reading and I turn off my Kindle, I shut the cover anyways! The ad vanishes and I never see it (until right before I turn the Kindle on again). See the screensaver ad below: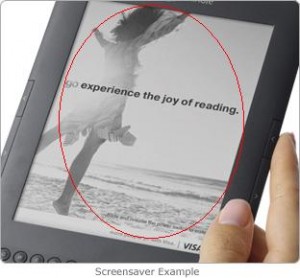 In this day and age we could all save a little money. With that being said, save your $25 to spend on something else (like gas!) and buy the Kindle Ad version. They really are not bothersome, whatsoever.