Folks, we are another step closer to the Droid Bionic being released. Some basic specs of the phone have been released. The Motorola Droid Bionic will have a:
TI OMAP 4430 1GHz dual-core CPU bundled with 1GB RAM
4.3-inch qHD display with 960 x 540 resolution, HDMI 1.4
8 megapixel rear camera accompanied by a VGA front-facing shooter and 1080p HD video capture
webtop capabilities
LTE radio
If these specs are true, I'm a little disappointed the Droid Bionic will only have a 4.3″ screen. I was really looking forward upgrading from my HTC Thunderbolt's 4.3″ screen to the Droid Bionic's 4.5″ screen. There were rumors a couple months ago that the Droid Bionic got an overhaul makeover and was going to boast a bigger screen. Let's hope that happens are start getting 4.5″ screen phones on the market!
Here is a snapshot of the specs: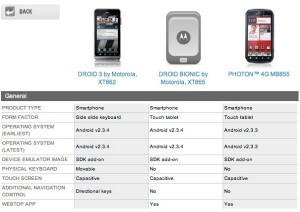 What do you think about the screen size? Are you going to be bummed if it's 4.3″ or is 4.5″ too big for you? (no pun intended! LoL)