How much bandwidth do you use in a month? 20GB? 50GB? 200GB? What about 500GB? As of today, May 18, 2011 I've used 582GB and still counting. Now, Comcast does have a cap at 250GB per month, but they have not called me (yet). Supposedly, if you reach the 250GB limit, they give you a call and if you go over again in the next 12 months they will cut you off for 1 year. Yikes!
As you can see in my chart below, I used 401GB in March, 109GB in April, and now over 580GB in May.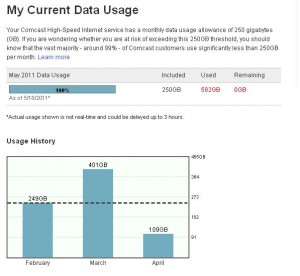 I never received a call back in March, so lets hope my service doesn't just get shut off in June.
Most of my bandwidth goes to BitTorrent. I have been addicted to BitTorrent since 2006 and haven't stopped since! The next level of my bandwidth goes to NetFlix and Hulu. I have both services on both of my TVs.
Now, normally I don't have an issue staying under the 250GB limit each month. However, I do have a backup service that I pay for. I tell the backup software which folders to monitor (so movies, pictures, music, software, etc.) which comes out to be about 850GB I have on my computer. It literally took months to backup all of my data up onto these remote servers! I recently re-did my computer, installed a RAID Controller, and had to re-download everything. Thank goodness for this backup service! I would literally have to write every movie down I ever downloaded. There's no way I'd be able to remember every movie in my collection. So having to re-download all of my content, this is where most of my bandwidth has gone for May.
Do you have Comcast as well, but don't know how to check your usage? Login to your Comcast.com account using your Comcast e-mail and password. Then click the User and Settings tab and you should be able to see the same graph that I have posted above.
If you Internet provider does not provide a free bandwidth measurement tool, there's plenty of free software you can download from the Internet that will monitor your traffic. I have Windows 7 installed on my home computers and there's a gadget I installed on my desktop that monitors the network. Keep in mind, this only monitors traffic on the 1 computer (not all the computers in your home). Then at the end of each month, I just reset the stats.